The Aldbrough Gas Storage facility, in East Yorkshire, officially opened in June 2011. The last of the nine caverns entered commercial operation in November 2012.
The facility, which is a joint venture between SSE Thermal (66%) and Equinor, has the capacity to store around 330 million cubic metres (mcm) of gas.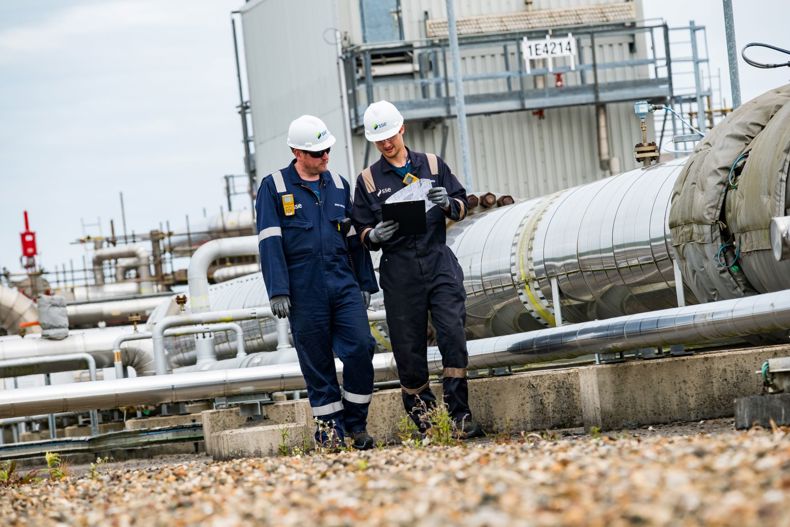 The Aldbrough Gas Storage Facility is one of the UK's newest onshore gas storage facilities, which SSE (66.6% share) has developed with Equinor (formerly Statoil). The last of the nine caverns at the Aldbrough facility entered commercial operation in November 2012, meaning that the site is now fully operational. The facility continues to operate with high availability to meet commercial requirements and on the 23 January 2013, Aldbrough saw a record level of output, with over 18mcm of gas exported to the National Transmission System that day - equivalent to the average daily consumption of around 4 million homes.
To form caverns such as those at Aldbrough and Hornsea, salt deposits around 2km underground are leached out by seawater which, in turn, is replaced (dewatered) by gas under pressure. All leaching and dewatering has now been completed at the Aldbrough site.
SSE and Equinor have consent to increase the storage capacity at the Aldbrough site (Aldbrough Phase 2) and during the last couple of years have been working to involve the local community where appropriate to refine aspects of this project. The project has not been progressed due to current market conditions. There are no plans to pursue the project at this time.
The Aldbrough facility already represents a major strategic contributor to the national storage of gas within the UK and it is important that the local community stands to benefit as part of that. As part of our planning consent back in 2006, we made a commitment to hold a regular Community Liaison Group (CLG) made up of local representatives, which members of the public are welcome to observe.
The CLG currently meets biannually to ensure that operation of the Aldbrough Gas Storage facility, the developer / operator and the community work together to minimise the impact of the facility on its neighbours. Fundamental to this role, the CLG needs to promote open and honest communication between all parties.
Members of the CLG include:
Michael Gillatt – SSE – Head of Site Operations
Roseann Hughes – SSE – Liaison Manager
Cllr Peter Turner – East Riding of Yorkshire Council (Ward Councillor)
Kevin Blackwell – Aldbrough Parish Council
Tim Floater – Aldbrough Parish Council
Mick Robinson – Aldbrough Sports Hall
Avril Crawforth – East Garton Parish Council
Steve Mattinson – East Garton Parish Council
Julie Dickinson-Shaw – St. Michael's Church
Billie-Jean Henry –represents local horse users
Stuart Allen – Aldbrough School
The minutes from recent CLG meetings are available below.
St. Michael's Wood was provided by the owners of the Aldbrough Gas Storage facility. It was planted during the winter/spring of 2013, by Heritage Hedging, a local contractor based a few miles away in Burton Pidsea. 17,395 trees were planted to create an area of woodland of approximately 29 ha. A number of different species of tree were planted, including Oak, Sycamore, Hornbeam, Aspen, Willow and Pine. The woodland also contains a number of broadleaves including Rowan, Wild Cherry, Field Maple, Alder and Birch. Woodland shrubs such as Hazel, Guelder Rose, Dogwood and Hawthorn are also present. A wetland area, 0.73 acres in size has also been created.
A competition was held for local school children to come up with a name for the wood. The final name for the wood was suggested by Stanley McDermott, aged 9 of Sproatley Primary School. The Aldbrough Gas Storage Community Liaison Group chose the winning entry.
The photographs below were taken in spring 2017, and show how the woodland has matured since it was planted a few years ago.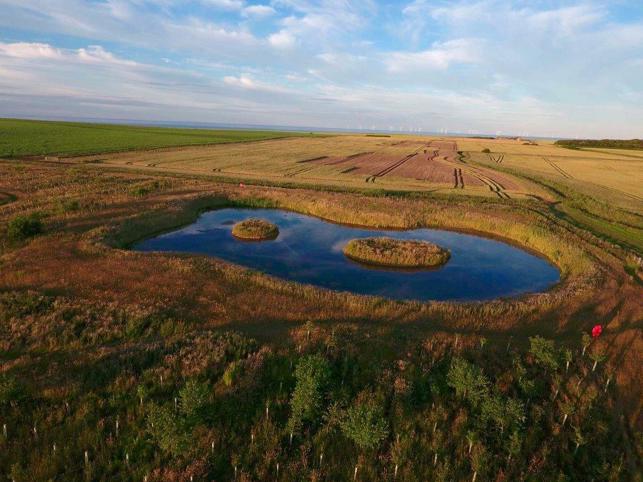 Contact us
Jayne Collings
Stakeholder Manager
+44 7471 401981