Back to overview
Exchequer Secretary visits Keadby on trip to East Coast Cluster04 Aug 2021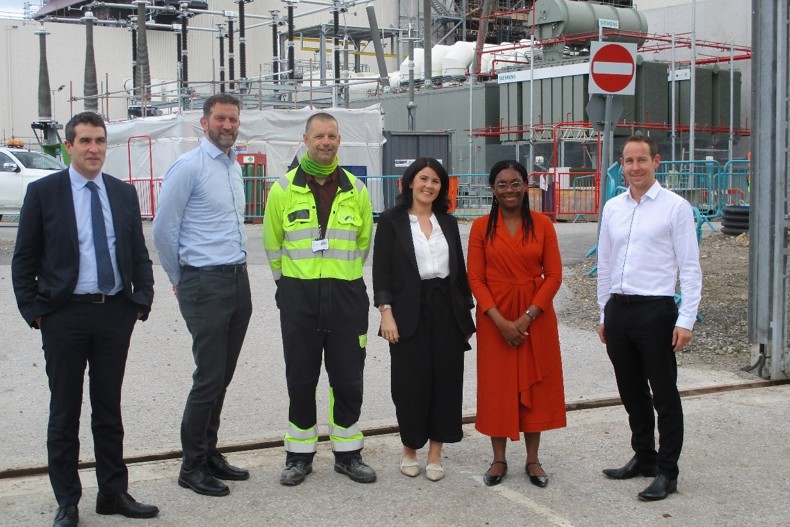 With less than 100 days until COP26, Net Zero Treasury Secretary Kemi Badenoch visited our Keadby site this week to discover more about our ground-breaking vision for low-carbon flexible power generation at the site.
Minister Badenoch stopped by Keadby as part of her tour of key projects within the East Coast Cluster, which brings together industrial decarbonisation plans in the Humber and Teesside regions. As well as constructing Keadby 2, which is set to be one of the world's most flexible and efficient power stations, SSE Thermal is developing plans with Equinor for first-of-a-kind carbon capture and hydrogen projects at the site to accelerate the transition to net zero.
The Exchequer Secretary saw first-hand the ongoing construction work at Keadby 2, which is expected to contribute over £1bn to the UK economy over its lifetime, while crucially replacing older and more carbon-intensive power stations on the grid. Minister Badenoch also heard about SSE Thermal and Equinor's plans to develop one of the UK's first power stations equipped with carbon capture technology at the site, as well as the world's first major 100%-hydrogen-fired power station.
Combined with the adjacent Keadby Wind Farm and the in-construction Dogger Bank off the east coast, SSE's projects and assets in the region represent a microcosm of the future energy system, with low-carbon thermal power backing up large-scale renewable generation.
SSE Thermal's proposed low-carbon power stations could act as key early customers for carbon capture and hydrogen infrastructure in industrial regions, which other energy and industrial users can then plug into to remove their own emissions. This would support the decarbonisation of harder-to-reach sectors of the economy, bridging the gap to the UK's net zero target while helping to ensure a just transition for industrial workers and communities.
The UK Government has committed to supporting the deployment of CCS in four industrial clusters, which will also unlock low-carbon hydrogen production. The East Coast Cluster is among those currently vying to become one of two 'Track 1' clusters supported by the mid-2020s. SSE Thermal is also backing the Scottish Cluster, with plans to use carbon capture technology to decarbonise its essential power generation at Peterhead in Aberdeenshire.
"It was fantastic to see how these world-leading projects in the East Coast Cluster are accelerating decarbonisation in the region and beyond. From what I have seen in Humber and Teesside is that just a small number of organisations are beginning to make a big difference in our united effort to address climate change and deliver on our net zero target by 2050.

Hydrogen could be an important part of this work, as well as support thousands of green jobs, and that is why we are backing it with investment to create a clean, resilient, and sustainable economic recovery from Covid-19."

Kemi Badenoch

Net Zero Treasury Secretary