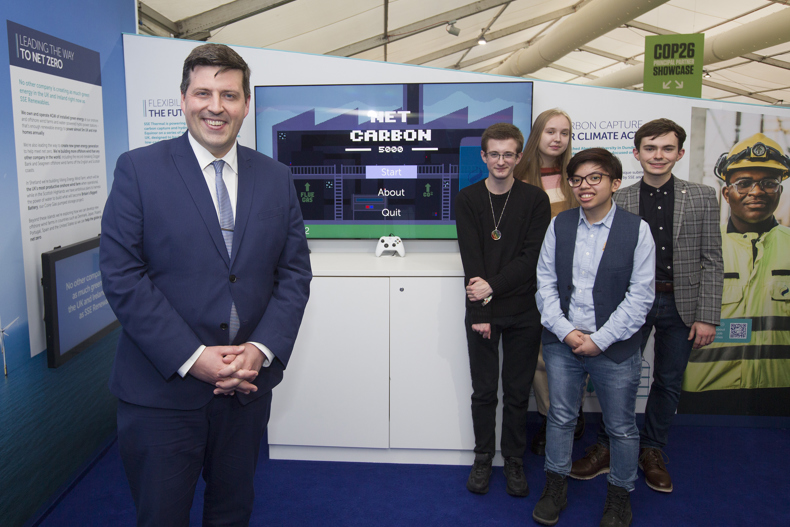 Jamie Hepburn, Minister for Higher Education and Further Education, has taken on one of COP26's more unique challenges – a climate action game devised by the next generation of video game designers from Scotland's Abertay University.
As the pivotal conference gets underway, SSE Thermal and Abertay University have officially launched 'Net Carbon', an educational video game focused on carbon capture and storage (CCS).
Now, the tens of thousands of people visiting the Green Zone at COP26 will be able to get hands-on with the game, which sees the player operate a power station equipped with CCS technology.
Jamie Hepburn MSP was among the first to tackle 'Net Carbon', which highlights the important role CCS is set to play in decarbonising flexible power generation.
The game is designed by a team of students from Europe's top ranked institution for video games education, Abertay University, whose prototype won acclaim from a panel of industry experts during a competitive 'Game Jam' held in July.
The team – comprising Game Design and Production students Harry Petch, Cameryn Tuliao and Jaime Williams, and Computer Games Application Development student Jordan Han – had four weeks to turn that concept into a fully playable game in a project funded by SSE Thermal.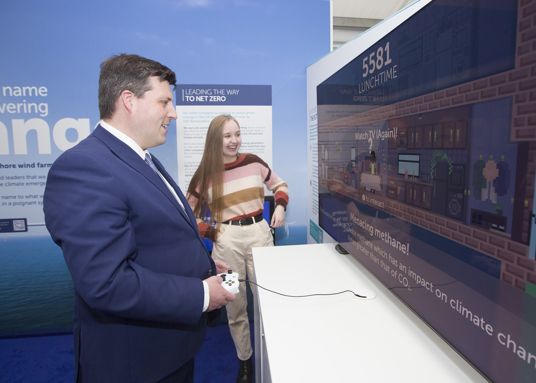 As a Principal Partner to the UK Government at COP26, SSE plc is playing a leading role in the journey to net zero, with SSE Thermal developing plans for CCS-equipped power stations at both Peterhead in the north-east of Scotland and at Keadby in North Lincolnshire.
Following the culmination of COP26 in November, the game will be used by SSE Thermal to engage and educate a wide range of audiences including schools, demonstrating how CCS can help reach the UK's climate action goals. The 'Net Carbon' team was mentored and supported by Gordon Brown, a Computers Arts lecturer at Abertay University, and PhD student Akos Demuth.
Jamie Hepburn, Minister for Higher/Further Education, Youth Employment & Training, said: "I was delighted to come here today to support Abertay University, who are at the cutting edge of video games technology, and to try my hand at the Net Carbon game. It is good to see the next generation of video game designers collaborating with industry partners to provide inspirational games for even younger generations.
"This is exactly the sort of engagement that our pupils need: it is entertaining and educational. It highlights the urgency of climate change technologies and will hopefully inspire our future generation to look for skills that help us achieve our net zero emissions targets."
Stephen Wheeler, Managing Director of SSE Thermal, said: "Tens of thousands of people will be attending the Green Zone during these two weeks of COP26, and we wanted to find a novel way to engage them on our efforts to decarbonise our power stations through carbon capture and storage technology.
"Technologies like CCS have a vital role to play in the UK's decarbonisation efforts, providing flexible, low-carbon power to back up renewable generation such as wind and solar. The team from Abertay University have done a fantastic job at bringing their concept to life, and we were pleased to welcome Jamie Hepburn to try his hand at the game as COP26 gets underway in Glasgow."
Student Harry Petch, said: "It's been great to work with SSE Thermal on this bespoke project for COP26 and we are all very pleased to be part of something that's going to have a lasting educational impact in communities and schools. Climate change is everyone's problem and we've all really enjoyed learning more about the carbon capture process, and also helping to bring the science and key messages behind it to new audiences in a way that's easy to understand."
Professor Nigel Seaton, Principal of Abertay University, said: "Abertay leads on a wide variety of projects linked to tackling climate change and promoting sustainability, ranging from research into how insects can be used as a sustainable food source, through to new innovations like the use of crushed rocks to absorb carbon in fields during farming. It's fantastic to see our games design students creating such new and engaging ways of communicating important messages related to climate change and also to see them benefitting from real world experience working with the team at SSE Thermal."