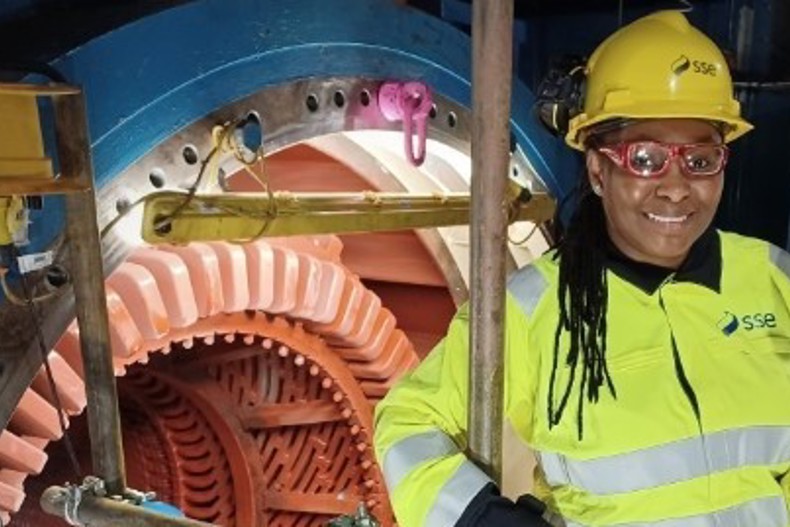 Today is International Women in Engineering Day, and we're shining a spotlight on some of the brilliant female engineers working within SSE Thermal.
As a company with several flexible power stations and gas storage sites across the UK and Ireland, we rely heavily on engineers to find solutions to the many challenges thrown up on a daily basis, while also developing solutions to our longer-term decarbonisation efforts.
Introducing Asi
Leeds-based Asi is one of our Graduate Electrical Trainees, having joined SSE around ten months ago.
She's currently supporting a project at our Tarbert Power Station in Ireland and says the best thing about being an engineer is "the satisfaction that comes from the effort you put into learning and growing from a given task."
She added: "I am really delighted and grateful to work with brilliant engineers to solve engineering problems. I love the inclusive culture as it creates the opportunity to ask questions and contribute to discussions without being judged by others. Another interesting aspect of the job is the challenges encountered when working on a task or project. I am entrusted to come up with a solution or make recommendations that will be beneficial to the growth of the company. This gives me the confidence to strive to be better as an engineer."
Meet Jennifer
Jennifer is a Grid Manager within SSE Thermal and joined SSE in 2007. Based in Dublin, her career to date has seen her work on some huge projects across the company, from Renewables projects like Dogger Bank and Viking Wind Farm to Thermal projects including our carbon capture developments at Peterhead.
She said: "I love being part of projects involving cutting-edge technology that are industry-leading and helping to change the landscape of the energy industry. Engineering is at the heart of these projects and there are many engineering disciplines involved in the delivery of them. But we don't work in isolation – we work closely with other Thermal teams to ensure these projects are delivered not only technically, but economically and safely as well. That's what makes it really interesting.
"Engineering can bring you to all sorts of places working on all sorts of projects. You'll never be bored – there are so many projects to be involved with and so many different aspects!"
Interested in a career in engineering with SSE Thermal? Visit our Careers website.