Back to overview
SNP MPs get first-hand look at potential of Peterhead Carbon Capture06 Sep 2022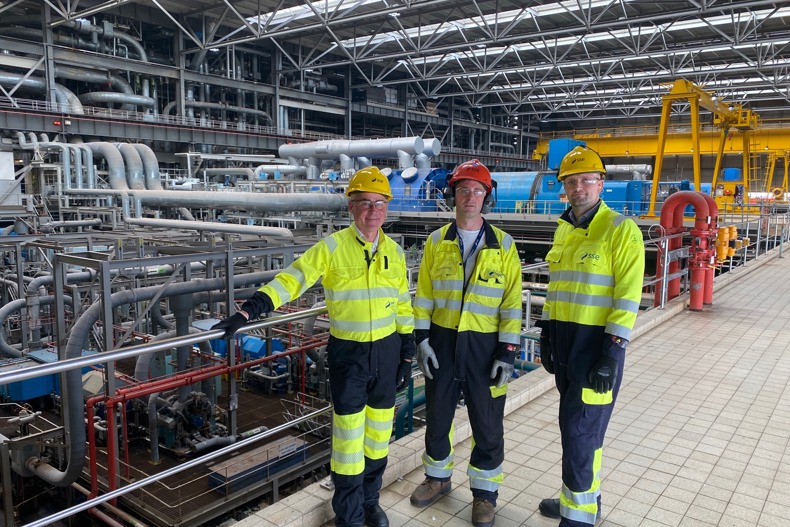 Two senior SNP MPs have had a closer look at what could become Scotland's first flexible power station equipped with carbon capture technology.
SSE Thermal and Equinor are developing Peterhead Carbon Capture Power Station at its existing site in Aberdeenshire.
And as part of a fact-finding mission, the site hosted Stephen Flynn MP, Shadow spokesperson for Business, Energy and Industrial Strategy, and Alan Brown MP, Shadow spokesperson for Energy and Climate Change.
During their visit they learned about the essential role played by the current Peterhead Power Station in keeping the lights on. They also heard from SSE Thermal on plans to decarbonise generation at Peterhead with carbon capture technology and how the new station would continue to provide flexible back-up to Scotland's growing renewables sector while bolstering security of supply and contributing to net zero targets.
Both Mr Flynn and Mr Brown have been leading backers of the Scottish Cluster in the House of Commons, calling for it to be brought forward at the earliest opportunity.
The proposed station at Peterhead would connect into the Scottish Cluster's CO2 transport and storage infrastructure, underpinning plans to deliver one of the UK's first low-carbon industrial clusters. It would have a generating capacity of up to 910MW and would capture up to 1.5MT of carbon annually, which represents around five per cent of the UK Government's 2030 target.
According to a report commissioned from BiGGAR Economics, the new development would contribute £60m to the Aberdeen City and Shire economy during development and construction, with 980 years of employment supported. Over the station's operational lifetime, it is estimated that around £25m would be added to the wider Aberdeen economy each year, with around 240 jobs supported on an annual basis.
Stephen Flynn MP said: "If we want to hit net zero then decarbonising vital infrastructure like Peterhead Power Station is a must and it's clear that SSE and Equinor have a plan for how to do just that. However, for that to come to pass, we urgently need the UK Government to finally approve carbon capture and storage in the North East of Scotland - the new Prime Minister must look to bring forward the Scottish Cluster at the earliest opportunity."
Andrew Underwood, SSE Thermal's Project Manager for the Peterhead project, said: "It was a pleasure to welcome the MPs to Peterhead to outline the game-changing potential of a new power station equipped with carbon capture technology. Not only will this project help to keep the lights on, it will bring major benefits in terms of economic investment and job creation to the north east, and will have a positive impact on Scotland and the UK's net zero ambitions."
A S36 planning application for the project was submitted to the Scottish Government's Energy Consents Unit in March of this year.
In July, SSE Thermal and Equinor appointed a consortium consisting of Mitsubishi Heavy Industries Group, Worley and Técnicas Reunidas to deliver a major engineering design contract, a vital step in bringing the project forward.