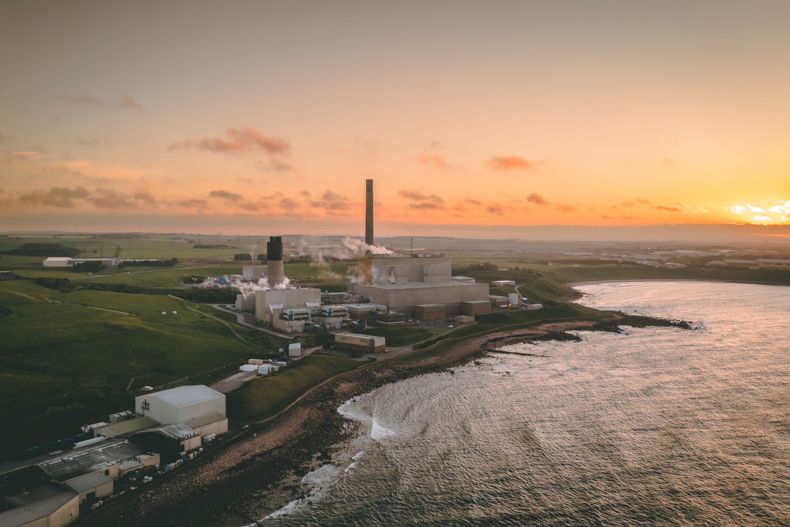 Today, we find ourselves in uncertain territory. That uncertainty centres around when and how we will realise the UK's net zero ambition in the power sector. As it stands, we have a Government commitment for one power station equipped with carbon capture – but to meet our decarbonisation goals, we require greater ambition with clear targets.
Flexible generation will become more essential as renewables continue to scale up, but it must be low-carbon in its own right. That is why technologies like carbon capture and storage (CCS) as well as hydrogen are so important.
These technologies will rely on shared 'transport and storage' infrastructure which will be complex to deliver. We need to make significant investments and decisions now if we are to generate decarbonised flexible thermal power before the end of this decade. The existence of strong and specific targets gives companies like ours the confidence to make the investment decisions needed to bring projects into this decade.
In the UK, there is no doubt we've made progress. The UK Government is serious about net zero and as the Climate Change Committee has made clear, there can be no net zero without carbon capture. The Cluster Sequencing Process has created two 'Track 1' clusters in the north-east and north-west of England. Projects within those clusters are progressing, including our Keadby 3 Carbon Capture Power Station in North Lincolnshire which we are developing with Equinor. Likewise, projects in potential Track 2 clusters, like our Peterhead Carbon Capture Power Station, are also progressing.
However, that progress has stalled. As it stands, the Government has not yet pushed the button on the necessary transport and storage infrastructure. And the critical enabling legislation is in limbo as the Energy Bill sits on ice.
"At least 7GW of power CCS projects are needed by 2030 to maintain a pathway to net zero, to fill the capacity gap which could otherwise emerge, and to avoid carbon lock-in for another decade."

Catherine Raw, Managing Director, SSE Thermal
Additional projects will be required beyond 2030 too. Investing in power CCS now is low regrets and can make sure that valuable gas is directed to lower carbon, higher value uses. Not only that, it has become increasingly clear that we need to prioritise power generation that is in the UK and responds to UK signals, and CCS achieves exactly that – underpinning energy security with indigenous power production.
To get there, we need clear ambition complemented by a well-defined policy framework, providing confidence and certainty to developers and supply chain alike. If Government sets this ambition, companies like ours will do the heavy lifting – we will progress projects with the result that the UK has many deliverable options for the realisation of net zero.
The UK is at risk of losing its competitive edge in the technology. In the United States, the passing of the Inflation Reduction Act is set to unlock dozens of carbon capture projects. An increase in government subsidies for capturing CO2 will make it easier for projects to progress to construction with the Carbon Capture Coalition saying the measures could help the industry grow 13-fold by 2035. That will naturally make the US a more attractive proposition for investors and supply chain companies looking towards carbon capture.
While we believe that Government is fully behind the potential of CCS, given the turmoil at Number 10 in recent months it needs to reassert that commitment. We expect to see the new administration prove that by progressing Track 1 infrastructure and projects early next year. Beyond that however, they must show greater ambition around the volume of power CCS projects to be progressed in the coming decade. The call for evidence launched on future policy frameworks for power CCS goes part of the way to provide that reassurance but it needs to translate into tangible action.
In the view of SSE Thermal, the design of any such framework must deliver on three key strategic ambitions. The first is low-carbon energy resilience. It is vital that we secure new low-carbon flexible generation capacity to back up a well-developed renewables-led system, which will support the Government's target of a secure net zero power system by 2035, with future options for energy export.
Secondly, Government must set guidance around local content so we can grow the UK supply chain and in turn enable the export of knowledge, skills and equipment, ensuring that the UK remains a global leader. Finally, we must level up industrial regions, delivering investment in areas which are transitioning out of high-carbon activity in order to protect existing jobs and create new skilled ones.
The opportunity with carbon capture is huge – but time is of the essence. Industry is ready to move as soon as certainty is given on ambition, policy frameworks and business models. The Government must do its part to deliver at pace on the promise of low-carbon flexible generation and ensure that we don't lose the competitive edge we've spent so long building. So, let's capture the moment, make our potential a reality and build a successful pipeline of CCS projects.
This blog was originally published in the Press & Journal.