Peterhead Carbon Capture Power Station
Powering on for a net zero Scotland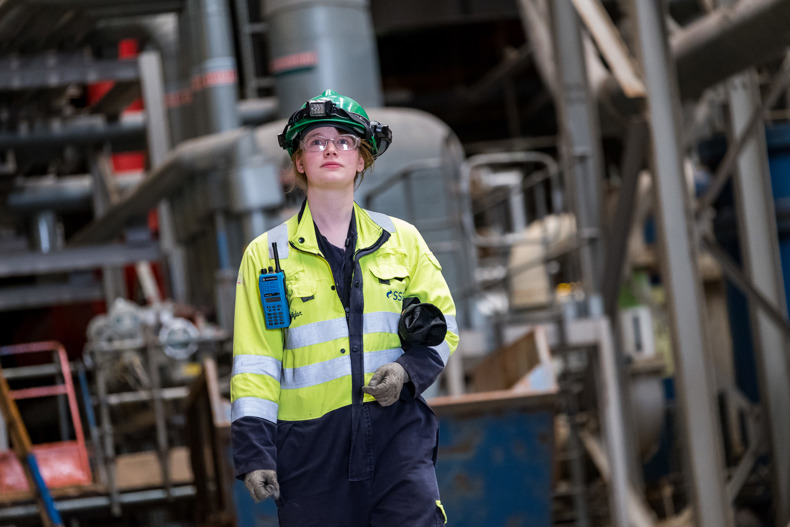 Since 1982, Peterhead Power Station in Aberdeenshire, Scotland, has played a critical role in keeping the lights on for our homes, businesses and communities. As Scotland's only flexible gas-fired power station, Peterhead provides essential flexibility to the electricity system, complementing intermittent renewable generation and ensuring security of supply.
Now, as we transition to a cleaner energy future, SSE Thermal and Equinor are exploring opportunities for decarbonised power generation at Peterhead, developing plans for a new power station at the site equipped with carbon capture technology.
Situated on Scotland's east coast, the Peterhead site in Aberdeenshire is ideally placed for carbon capture technology, with access to essential CO2 transport and storage infrastructure being developed through the well-advanced Acorn Project. The Acorn CO2 Storage Site, which will be used by the Acorn Project to safely store CO2, is located about 100km offshore in rock formations deep below the North Sea.
What is carbon capture and storage?
Carbon capture and storage (CCS) is a technology that can capture at least 90% of the carbon dioxide emissions produced from the use of fossil fuels in electricity generation and industrial processes, preventing the carbon dioxide from entering the atmosphere.
The CCS chain consists of three parts; capturing the carbon dioxide, transporting the carbon dioxide, and securely storing the carbon dioxide emissions underground, in depleted oil and gas fields or deep saline aquifer formations.
Stage Two (formal) consultation – open from 23 August 2021 to 1 October 2021
We would once again welcome your feedback. There are three ways to learn more about the Project: Visiting our virtual exhibition, joining one of our online webinars, and/or attending our in-person public exhibition events. Each of these is described below.
1. Virtual Exhibition
We would like to invite members of the local community to visit our virtual exhibition space which will be available from Monday 23rd August until Friday 1st October 2021. Please view our virtual public exhibition space available at https://peterheadlowcarbon.consultation.ai/
2. Online Webinars
We held online webinar sessions where members of the Project Team provided an overview of the Project followed by an opportunity for people to raise questions.
A recording of one of the webinars is available to view below:
3. In-Person Public Exhibitions 
In addition, we held in person public exhibition events. These events have now taken place.
Provide Feedback
We encourage you to provide feedback on our proposals until 1 October 2021. There are a number of different methods you can use:
The Feedback Form – this is attached to this newsletter and can be returned via Freepost. The Feedback Form is also available on the Project Website www.ssethermal.com/peterheadccs and as part of our virtual exhibition at https://peterheadlowcarbon.consultation.ai/  Paper copies will also be available at the public exhibition events.
By post to Freepost – Peterhead Low Carbon CCGT Project
By email to thermalenquiries@sse.com
Leave a message on 0800 211 8270 – if you would like us to call you back, please include your name and number as part of your message.
Postal services may take longer at present due to COVID-19. Please observe all relevant precautions. We cannot guarantee consideration of feedback provided via methods not listed above (such as on social media).
Please provide any comments by Friday 1 October at 5pm.
Please find materials related to the project below:
Stage One (informal) consultation - Now closed for comments 
A Stage One (informal) consultation for the Peterhead CCS Power Station project took place in May and early June 2021. People were able to visit a virtual exhibition space and to provide comments.
Please find materials related to the project below:
A further, formal stage of consultation will take place in late summer 2021. Details will be provided here in due course.
Contact us
Jayne Collings
Stakeholder Manager
+44 7471 401981